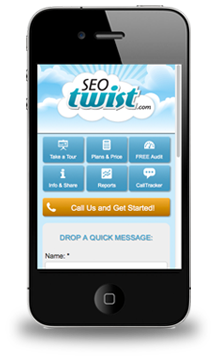 Let Us Show You How It Works
After we "mobilize" your website, the new version will automatically sync to your existing website and be easier to use. Plus, it is compatible with all major smartphones including iPhone [iOS], Android, Windows Mobile and Blackberry devices. See the live demo for an example of how a mobile-friendly website works.
See Live Demo
Most websites will display on a smartphone, but if not specifically designed with mobile in mind, it will not provide a memorable user experience. As a result, a "mobile-friendly site" should have large easy-to-tap buttons, as well as content that is formatted to fit correctly on a mobile screen – this way your customers don't have to pinch and zoom to find what they're looking for. In addition, your mobile solution should display automatically whenever a visitor accesses your site from a smartphone (with either a simple redirect or our Mobile Twist plug-in).